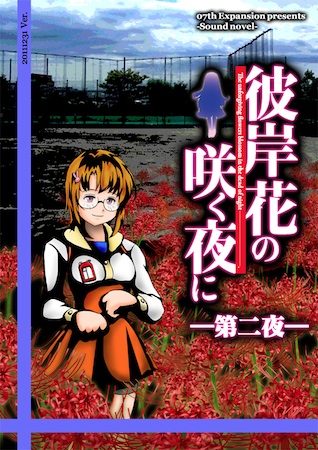 Hey there people, Kaguya here. So, the second night of Higanbana is finally translated- thanks to the awesome efforts at the people at spider lily trsanslations. http://www.spiderlilytranslations.com/
As always with Ryukishi, the story is incredibly well written. It manages to draw you in and it's incredibly entertaining while still addressing serious issues of our society, such as bullying. As expected, the story is masterfully written and it presents some great food for thought while still making you care deeply about it's characters.
Quoting from mangagamer: "From Japanese game developer 07th Expansion, creators of Higurashi When They Cry, Umineko no Naku Koro ni, and Rose Guns Days, comes author Ryukishi07's scariest tale yet.
Higanbana no Saku Yoru ni is a sound novel set in an elementary school haunted by a group of seven youkai (spirits) who feed off of the souls of bullied children.
One such child, Marie Moriya, is struggling with the psychological turmoil of being repeatedly abused by her own teacher, and lives each day in misery. That is until she encounters the mischievous youkai Higanbana, who offers her a chance at revenge.
Higanbana no Saku Yoru ni is a horror story that examines the boundary between life and death."

http://www.mangagamer.com/detail.php?goods_type=1&product_code=99
Also, because of some temporary problems, we won't be able to host this on the main site for a while. You can check this thread on the forums for more information: http://forums.fuwanovel.org/index.php?/topic/3449-request-higanbana-no-saku-yoru-ni-dai-ni-ya-prepatched/
Well, I hope you all have fun. Bye~