Sekai Project is nothing if not controversial. From their use of crowdfunding to the way they handle 18+ releases, they've come under fire for many of the ways they've run their business. Yet they're also possibly the most successful VN localization company of recent time, releasing a number of hits on Steam and garnering quite a following. Their latest venture is an IndieGoGo campaign for the yuri VN Ne no Kami, which as of this writing sits at 82% funded, just days after its launch.
Audun Sorlie aka Audi, a man of many roles at Sekai Project, was kind enough to field my questions relating to Ne no Kami, crowdfunding, Maitetsu, their adult releases, and more.
Decay: First of all, thank you very much for taking time out of your day to answer our questions.
Audi: Very happy to speak with you, pleasure is all mine! You're the one that has to take the time to make sense of my English grammar anyway.
Decay: Ne no Kami, your latest crowdfunding campaign, seems to be a yuri fantasy adventure. What sets it apart from your other yuri VNs?
Audi: What I feel truly sets Ne no Kami apart is the organic and believable connection between the characters, that genuine spark that comes through their interplay. I feel far too often in general entertainment we are just simply told to feel that these people are in love, but the writing in Ne no Kami is strong enough for me to actually think "yeah this is exactly how I felt when I saw Phoebe Cates in Gremlins".
Decay: How much of Ne no Kami is a serious story? Will it have anything for fans of the fluffy, slice of life-style of yuri?
Audi: It does certainly have elements of comedy, science fiction, thrillers, so there's something for everyone, but the emotional weight is still rather serious and handled with care.
Decay: The sequel is still several months away from release in Japan, are you already working with the developers on the translation? Can we expect a simultaneous English and Japanese launch?
Audi: Yes indeed! We are working closely with Fenrir vier-san to ensure a smooth launch both in Japan and in the West. The first part was met with universal praise so he's got his work cut out for him to follow it up, but I can tell you he's well on his way to surpass his previous works.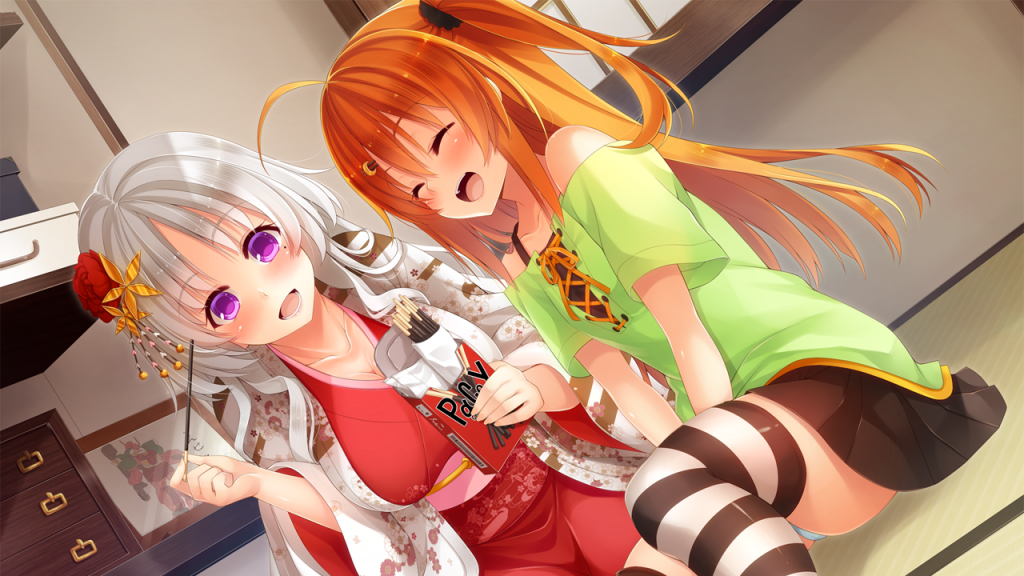 Decay: Sekai Project seems to be publishing disproportionately large number of yuri VNs lately. Is the market really that big for them, or are you at SP just huge yuri fans?
Audi: I think it comes down to the fact that well written female characters are so much fun to read. It's not so much the genre itself as it is just the quality of the stories, and it just so happens that yuri tends to be more emotionally provocative and endearing. For myself, I just want great storytelling, it could be about a moose marrying a 1000 year old ghost if it's just written well enough.
Decay: The Ne no Kami campaign is already over three-quarters funded after just a couple of days. How much of a relief is it to see it be so successful?
Audi: Of course, it's absolutely amazing to see such response, because I been working on this for a while and care so much for the characters and the creator himself, so for him I just feel very happy. I felt like the art and the premise was strong enough to warrant a good reaction, so I'm glad to see I was right about that.
Decay: You've recently been using IndieGoGo instead of Kickstarter. Are you satisfied with how IGG has worked out for you, and will you continue using it in the future?
Audi: IndieGoGo is more lenient with 18+ material, which is why we been using their platforms for certain projects. You'd be surprised how difficult it can be to get 18+ projects off the ground in general. Overall IGG is very good and I personally enjoy the more direct interaction I can have with the backers through their service. I always enjoyed talking to fans, and IGG makes that a little bit easier than KS in certain ways.
Decay: With both Ne no Kami and KARAKARA, you've employed the "flexible funding" feature of IGG, which grants you all of the money pledged regardless of whether you've made the goal or not. Why have you chosen to do so? What will happen if one of your projects fails to meet its goal?
Audi: For most of our projects, we back the development ourselves, and then bring project to a crowdfunding platform. The VN market in the West in still fairly young and unpredictable, and we wanna give these stories the proper treatment. So for a campaign like KARAKARA, it's a way for us to allow these games to grow through the support of the fans. If the demand isn't there, the game isn't going to grow any bigger. Developers and producers often need guarantees, and crowdfunding is a very good way of giving them that.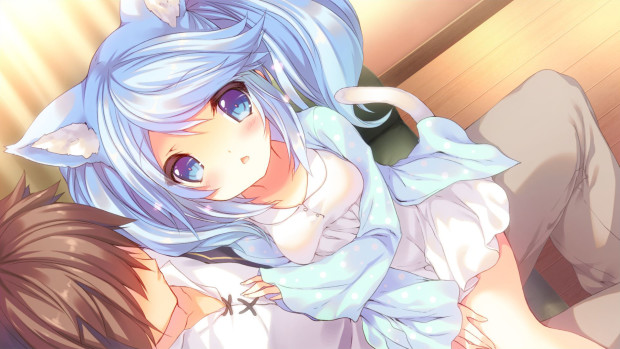 Decay: Lately, there seems to have been a somewhat lower frequency of crowdfunding campaigns from you. Are you afraid of relying too heavily on crowdfunding? Do you think people will get crowdfunding fatigue at some point?
Audi: Well SP as a company is always growing, always working hard to bring out a wide array of adventures and video games. With growth comes more security, experience and ability, so naturally we can take on more projects in-house completely over time.
As for fatigue, I think it really just depends on the demand and the product. People always say they are done with crowdfunding, but then a Shenmue 3 type thing comes around and dreams come true. It's hard to gauge, really.
Decay: Do you think Sekai Project will ever stop relying on crowdfunding, or is that a tool you think you'll always be using?
Audi: How long have you been holding in this question? 😉 I'll try to be as honest and transparent as I can in this answer satisfy your readers. So for us, crowdfunding has been essential to allowing us provide the fans with the greatest VN's out there. For an upstart on their 3rd year of operation, we've grown substantially and this is very much thanks to the fans' support through crowdfunding. We are all video game industry veterans and VN fans that came together to seek out old classics and new adventures, so for us, it's all about bringing out great content, never about making a dime.
I think there is a general misconception about what is actually done by doing a crowdfunding campaign, as if people are footing the bill for us and we rake in the goods. It couldn't be farther from the truth actually. Ironically, no one ever makes money off of Kickstarter, it's impossible, with all the variables, deductions, expansions, the campaigns themselves never make anyone any real money, it all goes into the product.
For VN's, the market is still so young that despite there having been 1 or 2 active publishers in the West with a focus on VN for less than a decade, the companies in Japan are often very strict and wary of going into the English speaking market, which is understandable. So with a crowdfunding campaign, it almost always comes down to the same thing no matter which company is doing it, it's about showing the demand from the fans and showing the strength of the marketplace. Additionally, for us, we can give back by offering lower prices for the backers than the retail price and also allow them to get premium content that without crowdfunding would be relegated to Japan or like a press kit. For example, people still love to physically own content, and this is a perfect way to allow this to happen without filling up our storage with 10.000 unsold copies of whichever game.
What I can say is that since I joined the company, I been very active in improving communication and presentation of the crowdfunders, and trying to make everything more clear to the consumers. Over the last year, we have taken on more projects and released them without resorting to crowdfunding because we continue to stabilize and grow, but for certain projects, they are too big and need more guarantees to be truly viable.
So hopefully this allows some of your readers to better understand that Kickstarters are not there to pre-order a game, it's there to ensure the project is financially viable and not bankrupt the developers and publishers by going with a dud. If it makes any of you happier, know that we are always the loser even when the campaigns are successful, because there's always unforeseen roadblocks that causes trouble.
Decay: For the first couple years of Sekai Project's life, you've released very little through Denpasoft, your 18+ brand. Why is that? Were you unsure of the 18+ market?
Audi: I wouldn't say we were unsure of the 18+ market as much as it was us as a company needing to stabilize and become more organized to delegate some focus over to Denpa. I been working fairly hard on the Denpa side to get it more active. 18+ is one of those things where people yell really loud for it to happen, but they are slow to pull the trigger so we didn't want to flood the site with whatever. We wanted to pick great art and great stories (though sometimes those are not mutually exclusive in a title).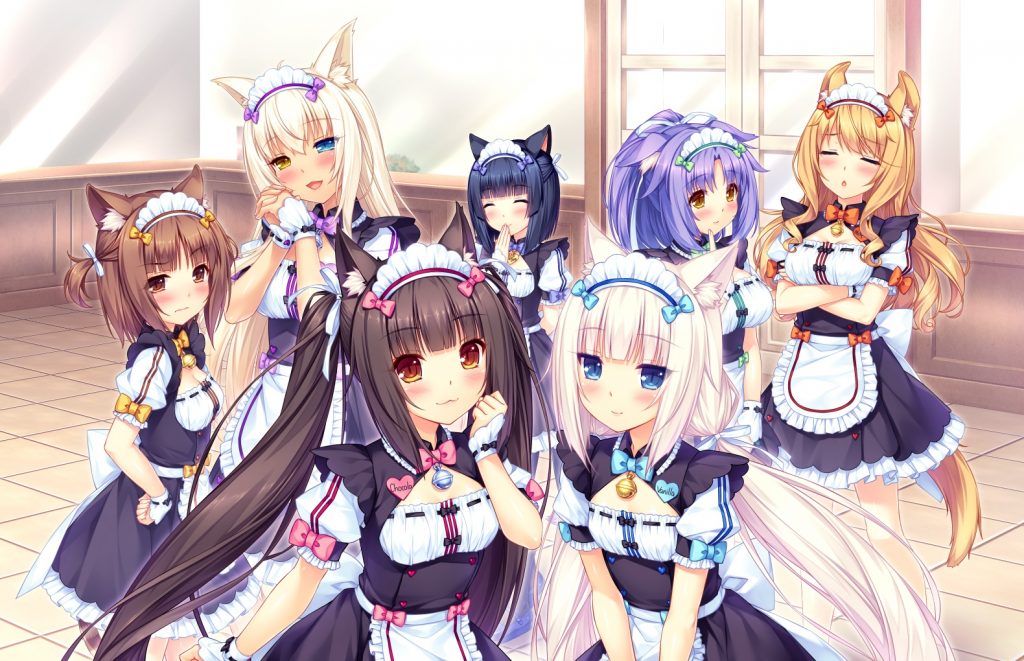 Decay: In recent months you've been releasing much more 18+ content through Denpasoft. Have those releases been performing well, and can we expect to see more of them?
Audi: You can look forward to lots more! It's an ever growing catalog. Denpa is going well and we see growth all the time. I am very happy with Denpasoft and am always looking for ways to improve it.
Decay: Sekai Project has been licensing a fairly wide variety of games lately, but perhaps the most surprising one was Maitetsu, which features some very young-looking romantic interests. What made you want to license that one in particular?
Audi: Maitetsu's world and characters are so rich and beautiful that the game just blossoms as you read it. This is probably gonna be the dumbest answer you'll ever get out of me, but to me the feeling I get from Maitetsu is like watching Postman Pat. It's this warm unity between the characters in a little village, and the characters all have such distinct personalities that really shines through.
I look forward to all the posts about how Sekai Project wants Postman Pat eroge now.
Decay: Are you afraid of any potential backlash from mainstream press outlets due to Maitetsu's subject matter?
Audi: Certaintly, Maitetsu is a title which in Japan has a playfulness that can quickly be seen as lewd and absurd in the West, we are mindful of that and always talking to Lose about how to approach the game.
Decay: An 18+ release of Maitetsu is something there seems to be a lot of demand for, is that something you'd be interested in providing?
Audi: Well there certainly is a loud crowd of people, don't know about their numbers but I hear their voices even in my sleep. Again, it's something we have to look into and figure out because the subject matter is not just controversial but can be detrimental to many of our partners. We work very closely with companies like Sony and such, and their cool with us working the Denpa 18+ stuff separate from them, but one false move and suddenly the VN market is gonna hurt from it. It's one of those situations where we have to pick our battles and figure out the best course of action.
Decay: Sekai Project's co-founder Raymond Qian has recently tweeted about his doubts over the recently-announced 2236 A.D.'s chances in the west. What do you think makes it so hard to sell these kinds of story-heavy titles in the western market?
Audi: I wouldn't say I disagree with that, but my job is to prove him wrong. Dovac is the hardest working man in our company, and he knows the challenges of the market. We all like to think that the greater stories prevail, but simple put, most people want that 10 minute gratification or else it is deemed boring. Mainstream still has a hangup that all VN is erotic and exploitation, so there's that too. So even though it's a hard sell, it's essential that we continue releasing these type of story-heavy games to push the medium forward and showcase its strengths. 2236 AD is really wonderful, so I can only hope people do give it a chance.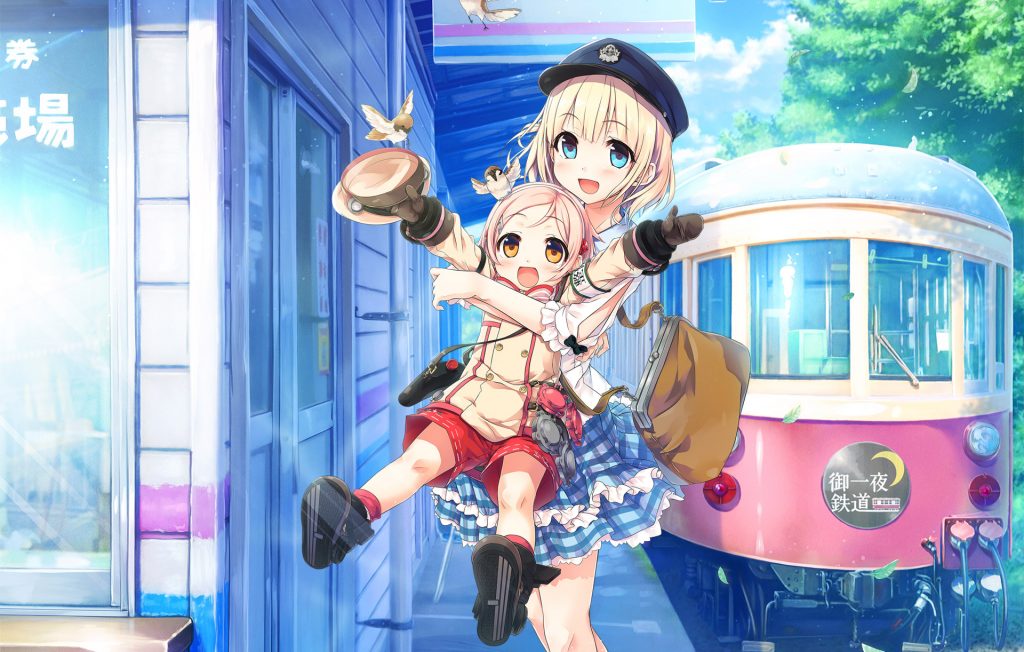 Decay: Much of Sekai Project's catalog consists of doujin VNs that are frankly rather obscure. How do you find these titles? Who usually approaches whom?
Audi: It depends. I mentioned earlier we all come from a background of working in the video game industry and/or the VN industry. Some developers approach us through word of mouth that we work hard and have very good dialogue with our development partners, others are friends or associates that we kept eyes on over time. It really depends. We want to provide developers big and small a way to bring their stories to a larger audience.
Decay: What about Ne no Kami specifically? How did you and Kuro Irodoru Yomiji, the doujin circle behind it, come to work together?
Audi: I believe our co-founder Chris Ling had the pleasure of meeting with them through some mutual associates and we saw the passion and quality of their work. Sacrament of the Zodiac was a short and sweet title with really wonderful art, and was like a blueprint of how they write their characters, it just felt much more believable than many of the other VN yuri characters which sometimes can feel flat.
Decay: You've also been publishing a lot of EVNs lately. How do you decide which ones to support?
Audi: EVN we approach a little differently because that truly is a brand spanking new market, though I don't know if we had a spanking EVN yet, might wanna get on that. We get a lot of pitches and requests for EVN, and like our Japanese partners, we wanna help EVN grow and become a stronger genre as well.
Decay: What is it like being a publisher of EVNs, compared to translated Japanese VNs? Do you exercise any creative control over your EVNs?
Audi: With EVN they are often in pre-production or early production when we begin our work together, so we have an easier time communicating on content change should there be a need. However, we at SP never really involve ourselves in content creation as such beyond suggestions, so it's really up to the dev. Yes it is true, SP never wants to censor anything, it's a shocking revelation, I'm sure.
Decay: Some of your published EVNs have a rather questionable reputation among the VN community, such as the Sakura series. Does this bother you at all? How do you think you can turn that around?
Audi: Well I think Sakura is more about the artwork and whimsical writing than anything else, and for that they work really well. The characters look great and series is constantly growing stronger and better. The upcoming Sakura Dungeon for example is a dungeon RPG kinda like Wizardry, so like many other game series, just gotta let it grow and show some support. Mega Man 1 was not the best Mega Man, but over time it grew great. Though Mega Man 3 is the best.
In fact, I'll speak more for myself in answering this in that I find EVN's greatest challenge is just that it relies too heavily on set expectations and tropes. Just because you read a VN that takes place at a Japanese high school, does not mean every VN has to take place in Japan. For me, I want to see and hear stories that comes from your experiences, your life, your influences, and those go back much further than the VN you read in 2013. I think people think that their own culture and experiences aren't interesting, but they really are, and I would love to see more variations and diversity from EVN developers. Are you Swedish and grew up near the woods? Then a VN with nature, trolls and woods that comes from your own imagination and culture would be much more authentic and personal than writing about Koji Whataeva meeting his childhood friend who has grown breasts over the summer and wants to go to the cherry blossom festival to show off her cleavage in a kimono.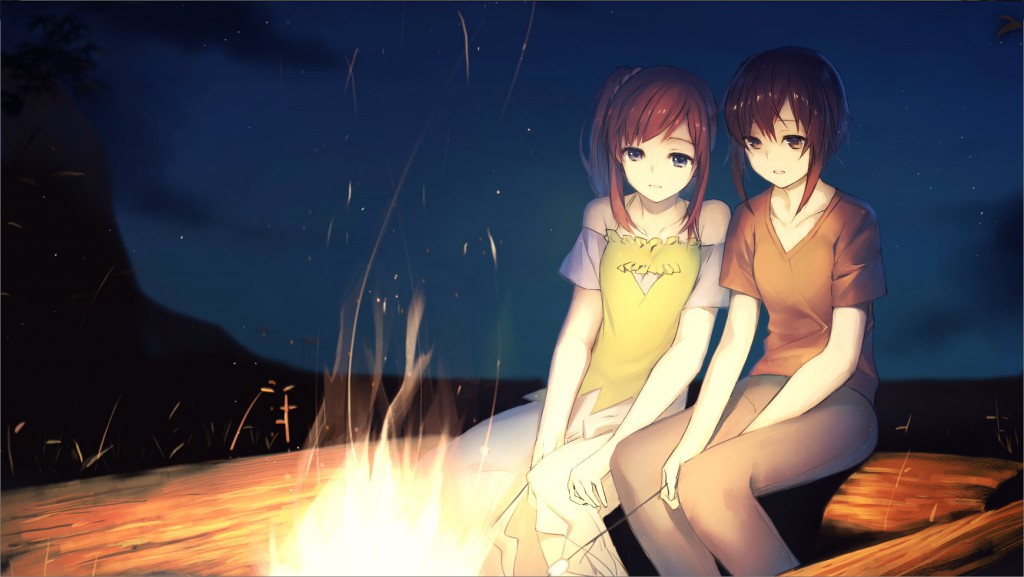 Decay: Although you publish plenty of standard bishoujo and yuri titles, you deal with very little yaoi/BL. Your last attempt at a licensed BL translation ended in a Kickstarter failure. Will you ever try to translate another BL title?
Audi: Absolutely. I think sadly that KS campaign fell a bit by the wayside and it deserves another chance. I often speak with LGBT and yaoi fans at conventions and always tell them I really wanna bring out more for them to enjoy, because there is great content out there. I actually ghostwrote gay Harlequin titles for the UK market in my late teens so maybe I need to just do it myself and have SP publish it.
Decay: This also goes for otome games, SP has yet to release a major otome game yet. Why is that? Do you have any plans for translating otome games in the future?
Audi: Yes, we'd love to do otome games of course. Just gotta find the right one and have the right time to do it. Otome fans, scream at us what you want and we'll keep trying to give it to you. It will happen.
Decay: You've recently started publishing manga, starting with Gate. Do you plan doing more manga in the future?
Audi: We also announced the Sakura Spirits manga recently, so you can be sure there are other mangas around the corner. Just keep checking back.
Decay: What about other mediums? LNs? Anime? Maybe even TV dramas? Is there any medium in particular Sekai Project would really like to expand into?
Audi: For now, we are primarily focused on video games and manga, and figuring out how we can delay them further just to make people angry. Who knows what will happen in the future really, I personally would see anime as a logical next step but I wouldn't know how and when.
Decay: And lastly, I'm told that you were close friends with the late Ryu Umemoto, composer for YU-NO, Eve Burst Error, and many other visual novels, and that you have a message to share with us. Would you like to share that message now?
Audi: Ryu-san was one of my closest friends and the loss of him has had an immense impact on my life. In fact, Eve Burst Error was my very first VN back in like… I'd like to say '96. What struck me was the energy between the dialogue, visuals and music, and the music especially floored me. I always took note of the name Umemoto from the credits, and began to pick up games randomly if I knew he had done the music for them despite not really getting to fully enjoy the stories, the music was a story in itself. This was before the Internet could answer all your questions, so information on him was scarse at best.
It wasn't until 2008ish that I became friends with another musician in Japan that was impressed by my knowledge of PC-98 and video game composers. He made me list my favorites for giggles but when I eventually professed that no one could match someone named Umemoto Ryu, he stopped dead in his tracks and looked at me asking if I knew Umemoto-san. I didn't of course, but it turns out he did. In fact, they were sharing offices! So one thing led to another and I began to exchange emails with the man who I had idolized for so long.
We became very close friends, and eventually even visited eachother and working together. I saw that his health was getting worse, but Ryu-san never spoke about himself, he cared for everyone else and he was always in good spirits and never let anyone truly know about his condition. Last time we spoke was on my birthday in 2011 when he gave me a quick ring and joked he would join me for a late birthday party in a few months (he was planning a trip to my place in Europe). Sadly the next call I would get was with the news that he had passed away.
Ryu-san was to me the most complete person I ever met, someone who thought and spoke so clearly, yet had the most complex understanding of the world. His music speaks for itself, and the stories he told with his music still leaves me speechless. But as a friend, as a brother as he would say, just the sweetest man in the world. I can't express enough how much I loved his presence and support, and how dearly I miss him. I promised his family to take care of his estate and continue to promote his name and music, so I always try my best to share the wonderful memories that I have.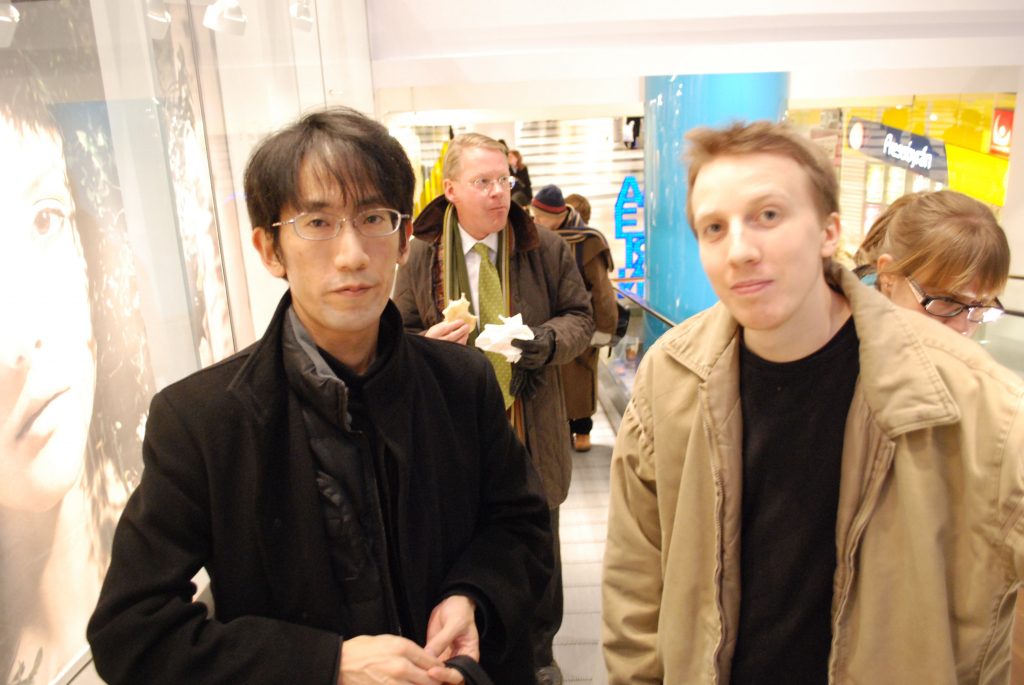 ---
We'd like to thank Sekai Project and Audi for taking the time to answer all of our questions, and doing so with full honesty. Speaking from my own perspective, SP's recent efforts to reach out to the community more with their Q&A streams and interviews have impressed me a great deal. I appreciate their transparency and I hope we can see more of this in the future.