This weekend, the biggest event of the year for visual novel fans was held: Anime Expo. All major English language visual novel distributors attend, and this year a bevy of exciting announcements were made. Some were expected, others were big surprises, and they were all really exciting. I'm here to give you the lowdown on what happened.
For some pre-show excitement, Degica, a newcomer to visual novels, blew everyone away with the most surprising announcement of the week. Muv-Luv and Muv-Luv Alternative have been licensed for official release in the West! These are huge, seminal works with ridiculously high ratings both in Japan and the West.
Working together with Amaterasu Translations, the creators of the fan patches, they will be launching a Kickstarter in late August or early September. They are planning to revise the translation if necessary, and also planning to offer up currently untranslated VNs from âge as stretch goals. This project will be way more ambitious than it at first seems, they are not content with stopping at the fan translations.
Before we get into the announcements from the three major VN publishers, let's first talk about Zero Escape 3! Announced in the midst of the show, this is the sequel to 999 and Virtue's Last Reward. People thought the series was dead, but Aksys is performing their best necromancy and bringing the series' original creators back on board. Lead writer Uchikoshi himself was present for the announcement, as well as a second panel on localizing his games.
JAST USA
JAST USA's panel came first, and the first thing they announced was simultaneously one of the most expected VNs to be at the show and also one of the biggest surprises. JAST has partnered with Innocent Grey and will be bringing over the entire 4-part Flowers series to the West! What's that? Innocent Grey already has a partnership with MangaGamer, who has released three of their games and are working on two more? Ironically, JAST offered a faster release timetable. The business just got a little more cutthroat :p.
Anyways, Flowers is a very popular all-ages yuri story with a dash of mystery. As you would expect from Innocent Grey, this is not your typical sugary sweet yuri fluff, but it's also not nearly as grim as their other works, so worry not. You won't have to wait long for this, JAST is promising a Fall 2015 release for Steam. For those who want the sugar, I have a feeling there will be something else in this post for you. 😉
The second game they announced was SoniComi, a photography game / VN hybrid where you play as the photographer for Nitroplus' popular mascot character Super Sonico. There's more to this than meets the eye, fans will tell you there is actually quite a bit of well-written humor and some utterly ridiculous endings. This one is slated for Steam release sometime after Flowers is out.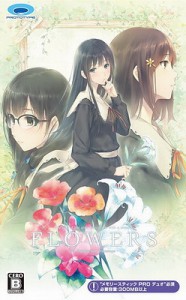 Sekai Project
Next up is Sekai Project, the previous newcomer to the scene who has had an explosive first year. This year they continue to impress with the depth of their Japanese connections and their capability of striking partnerships previously thought impossible.
Their first announcement is that of a partnership with Akabei Soft 2! They will be bringing over the fan translation of the hugely popular G-Senjou no Maou, the high school romance / crime thriller hybrid that enraptured Western VN fans ever since its fan translation released five years ago. You won't have to wait long for this one, it will be available on Steam VERY soon, this summer! And this is just the beginning stages of SP's partnership with Akabei Soft, expect more announcements in the future.
Second up is Chrono Clock, from the popular eroge developer Purple Software. Their games tend to be highly rated, and while this isn't their most popular title, it's their most recent and still pretty exciting looking! The protagonist had a watch passed down to him from his grandfather that can turn back time five minutes. Despite possessing this powerful device, he only wishes to have a normal, fulfilling life. These hopes are dashed when one day he witnesses the suicide of a certain girl. My hope is that this partnership will lead into the licensing of some of Purple's more  popular works, like Hapymaher or Mirai Nostalgia.
Sekai Project has also announced a remake of the entire Narcissu trilogy. This will feature in English for the first time Narcissu 3 as well as the side-stories from the PSP version and a whole new story just for this release, plus updated graphics and VA.
And their final major announcement was Root Double -Before Crime * After Days- Xtend Edition. This one is a highly rated survival mystery story created by the director of the popular Infinity series (mostly known for Ever17.) It follows a security guard who wakes up with missing memories in the middle of a research facility in the midst of a crisis, their nuclear reactor is melting down and the security system has locked the facility down! There are nine people to save with their limited survival gear and nine hours until the system recovers. The Xtend edition is originally an expanded console release, but a PC port should be likely (more clarity on that might be given at Otakon).
The game is being translated in partnership with Lemnisca Translations, the highly talented group who brought us translations of Never7, Killer Queen and I/O. As part of the agreement they made with the original developers, their previous fan patches have all been taken offline; what will happen to them is unknown.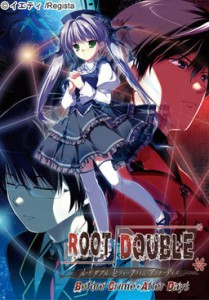 MangaGamer
Last to have a panel was MangaGamer and they did not disappoint as the closer to the show. To start things off, MangaGamer has licensed an all-ages VN from noted yuri series Sono Hanabira ni Kuchizuke o titled A Kiss for the Petals – Remember How We Met. I told you fans of sugary sweet yuri would have something for you here :). This one is being touted as a good introduction to the series. I have to imagine that MangaGamer wants to do many more titles in this sprawling franchise, including many of the 18+ ones.
Expanding on their relationship with the doujin circle 07th Expansion, MangaGamer has announced that they will be licensing the hugely popular visual novel Umineko When They Cry. This official release will be using a highly edited version of the Witch Hunt script, and will feature all new art. If I'm to editorialize a bit, I have to say I'm not a big fan of the art they're using. But if this release is anything like the Higurashi steam releases, it will be highly moddable and you will be able to put in whatever version of the art you most prefer. I personally will be looking forward to a patch that adds in the PS3 art. 🙂
This one might be my personal #1 announcement of the show: Himawari -a pebble in the sky-! What at first appears to be a simple moege with a sci-fi twist is actually a pretty deep hard sci-fi story that has become widely known in Japan for its intricate storytelling. It was initially a respected doujin work created by circle Blank Note. This version is a remake created with all new art by Front Wing of Grisaia fame. There will be an 18+ version sold on MangaGamer's site and an all-ages version available on Steam.
And last is one of the biggest announcements of the show: MangaGamer has partnered with the popular adult game maker Alice Soft! Alice Soft is the creator of the highly rated Rance series of erotic RPG/VN hybrids, but MangaGamer's first game from them will be Beat Blades Haruka, a pretty cool looking RPG/Raising Sim known for its many high-quality H-Scenes. This one is not for kids and there will not be a Steam release :p. For those wondering where Rance is, MangaGamer has stated that Alice Soft wishes to release Haruka first in order to gauge interest in the Western market. Translator Arunaru has put his Rance IV project on hold for this, but it doesn't sound like he's going to drop it – perhaps it'll get an official release later too.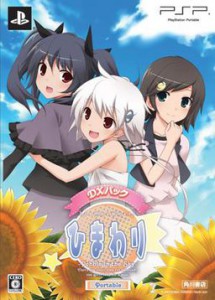 There was also a large amount of release date announcements for existing products. From MangaGamer, Sweet Sweat in Summer is releasing this month, Kara no Shoujo 2 will be out this fall, and Gahkthun of Golden Lightning is coming out by the end of the year. From Sekai Project Clannad will be out in November and World End Economica Ep. 2 is also releasing this month. As for JAST USA, Seinarukana will also be out this fall.
And that's it! I told you it was exciting! That's ten major announcements, many of which are whole new partnerships. What's really exciting to me is the rate at which new Japanese companies are jumping in the ring. From âge to Alice Soft, there are many newcomers to the Western visual novel market, and the rate at which companies make the leap across the pond will continue to increase from here on out. Coupled with some of the exciting fan projects wrapping up later this year, it has never been a more exciting time to be an English-reading fan of visual novels! Nothing caught your eye? JAST has teased a possible announcement at Comic-con next week and both MangaGamer and Sekai Project have teased even more announcements for Otakon at the end of this month, including yet another new partner for MangaGamer.
---
And in case you haven't noticed me, hello there! I'm Decay, and this is my first time writing for the Fuwazette. Be gentle with me. I've been an active member of Fuwanovel since early last year and am also a database mod at VNDB. We're the definitive source of information on VNs on the English web, and we've been trying hard to make the database as comprehensive and useful as possible. I'm sure most of you already know the score, but if you haven't been there before, check it out, I've found it invaluable for discovering new VNs. If you want to see more from me, you can catch me on Twitter, and you can usually see me posting away highly opinionated posts on the visual novel sections of the Fuwanovel forums.