Hello all, it's Naomi. If you all remember, Aaeru wrote a bit about the highly anticipated 18+ Visual Novel by Pulltop: Cocoro@Function! A lot has changed since she wrote that article, so I'll inform you all on some of the neat updates on this game.
Opening Video
The Plot & Setting
The story takes place in the not-too-distant future, where man has successfully merged with technology, creating a world where the line between networking and physical human interaction has slowly blurred into a near-indistinguishable amalgamation.  Humans have been highly influenced by the introduction of the Orca card, a multi-purpose system encompassing every tool one could ever need.  The majority of the story takes place in Makoto Advanced Academy and its surrounding city proper.
Halfway through the 21st century, we are surely approaching something called the "network golden age".
The Multipurpose communication card "Orca" provides a phone network(that goes without saying), an overwhelming number of apps to use allowing one to shop from their home telephone, and even a way to receive school lessons.
IDs and even the health insurance cards are all incorporated into the Orca card.
It wouldn't be an exaggeration to say that one's entire life is influenced by this one small card.
I, Harumi Taiyou, am in a city that supports cutting-edge Orca cards, a student of Makoto Advanced Academy
(something like his city has the best ones)
Blessed with friends, and although no large problems occur in my daily life……
A bug occurred in some students' Orca card after a sudden automatic update was applied.
An unusual app called "Kokoro Function" was installed.
And it seems I was one of them, and apparently due to this app, my inner thoughts are revealed to the people around me.
"Chairman! Bad News!"
"What's wrong?(But, I would never get tired of groping your bouncing boobs)"
"Chairman! You pervert!"
You can't delete the app, but on the other hand you couldn't live without Orca either.
After that, it was impossible to hide my erotic delusions.
Furthermore, apparently there are other apps at school that have special features that are also causing problems.
The troubles in school are gradually building up.
I had to do something, and with that in mind, I gathered a group of people also bothered by this mysterious app,
and started up the Kokoro Function Countermeasure Committee (CFC), in order to try to solve the problem.
Can everyone else and I retain our peaceful school life!?!
(Italicized text taken directly from the Official Cocoro@Function! Website, and translated for your viewing pleasure)
Gameplay
Like all visual novels, the guiding feature of the gameplay are its occasional choices that guide the telling of the story.  While it is unclear the method in which one will interact with the game, or how the unveiling of the story will be done, the game's developers, Pulltop, have released a few videos and trials showing some of the game–though unfortunately they are not translated in English.
Gameplay Video
On the 22nd of August, Pulltop released an official demo, featuring a good number of interesting scenes from the game.  You can download the free trial by following the above link, and clicking the first download button.
Pulltop released their official H-Scene trial download on the 20th of September, featuring one sex scene for Hasugase Mina, and one for Yuzuriha Hijiri.  You can download the free trial by following the above link, and clicking the first download button.
The Main Characters

Name: Hayami Taiyo
Height: 170cm
Role: Chairman and leader of the Kokoro Function Countermeasure Committee
Description: Hayami Taiyo is a diligent and respected leader in Makoto Advanced Academy.  His  calm and collected demeanor grants him plenty respect as an authority figure, however his perverted and whimsical thoughts herald in a plethora of unfortunate consequences for this protagonist.  Throughout the game, Hayami Taiyo interacts with Bell, his sentient alarm clock app, who is sure to be the source of plenty of laughter throughout the game.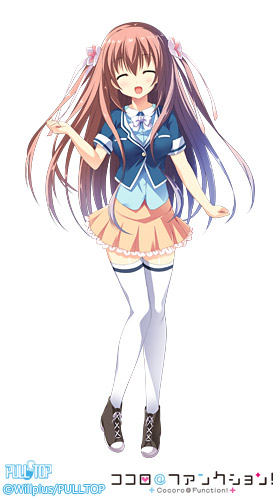 Name: Hasugase Mina
Height: 158cm
Three Sizes: 90-59-88cm
Role: Transfer Student
Description: A transfer student and networking fanatic, Hasugase Mina is the first and foremost heroine in the game.  Her overwhelmingly cute, gentle, and considerate nature makes her a top choice for light-hearted moe-fans everywhere.

Name: Yuzuriha Hijiri
Height: 160cm
Three Sizes: 88-58-85cm
Role: Classmate
Description: Yuzuriha Hijiri embodies the stereotypical high school princess.  She is a dignified, bright, and elegant young lady with a strong and well-defined fashion sense.  She takes pride in her image, and carefully prepares herself, be it through morning ablutions, studying, or anything else in life.  Despite her intellect, she is quite inept in the use of technology, constantly trying to circumvent her lack of understanding by requesting a simpler means of communication.  When embarrassed by her own clumsiness, she will become quite flustered, resulting in agitated ramblings.

Name: Shirakusa Mebae
Height: 152cm
Three Sizes: 79-57-83cm
Role: Lower-Classman
Description: Mebae is a more dominant, extroverted girl.  Her friendly and charming personality is countered by her shrewd antics to create an interesting amalgam.  She's far more lazy than her younger sister, Ibuki, and often sleeps 10 or more hours just to pass the time.


Name: Shirakusa Ibuki
Height: 152cm
Three Sizes: 79-57-83cm
Role: Lower-Classman
Description: Ibuki is the more submissive introverted sister.  She sometimes has trouble properly communicating her thoughts clearly, despite being a thoughtful and studious girl.  Her favorite passtimes are reading and self-contemplation.

Name: Hayami Asagao
Height: 156cm
Three Sizes: 91-59-86cm
Role: Programmer and Younger Sister
Description: Out of all of the characters in the story, Hayami Asagao is probably the most hardworking and intelligent.  She finds solace in her work, which typically consists of programming.  Having proven herself from the creation of a successful app for the Orca card, Asa-chan is the backbone of the Kokoro Function Countermeasure Committee.  Her true potential is clouded by her depressive nature, which is slowly addressed and dynamically aided throughout the story.

Additional Characters & Videos
Bell
Endou Chie
Fujibakama Tamaki
Harusaki Kasumi
Nohara Kanon
Additional Information
Release Date: October 25th
Price: 8,800 Yen
Rewards, offers, and promotions: Support this game~!
Where to buy: AmiAmi
(Special thanks to Mephisto and shcboomer for translating the plot description for this blog post~!)